(Georgia, South Carolina, North Carolina, Tennessee)
We encountered our most serious mishap as we were departing the state park in the morning. We were just a couple of miles down a curvy rural road when we heard (and felt) a big clunk and scraping noise. We stopped as quickly as possible, although in spot with poor visibility. It turned out that the pin holding the hitch into the receiver had failed and the hitch came off the car, dragging on the ground while the trailer stayed connected because of the safety chains. Cynthia positioned herself to warn traffic while I worked to solve the problem. We had several other come by to help. It wasn't so bad in the end as I was able to raise the trailer tongue using the tongue jack, I had a spare pin and soon we had everything put back together and were on our way. However, the power tongue jack (which was installed new at the beginning of this trip) now works in only one direction, as it got slightly "crunched" against the back end of the car. Fortunately, I can work the jack manually.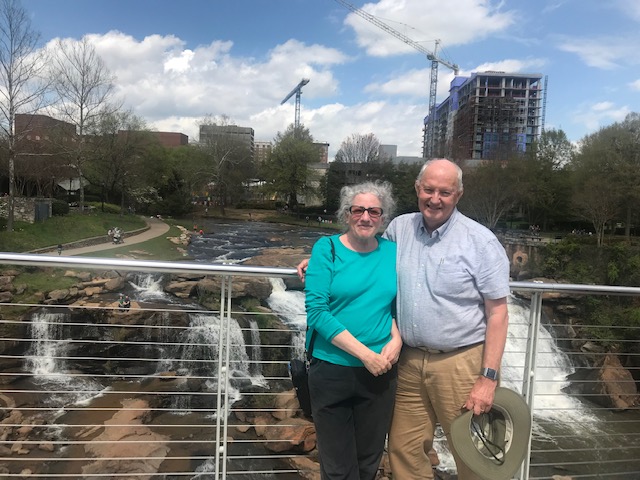 We entered South Carolina and had lunch with family friend in Greenville. We toured the lovely downtown of this city that is growing robustly with the automotive industry that has developed there. The Reedy river slows over cascades in the center of town and everyone was out to enjoy the spring day.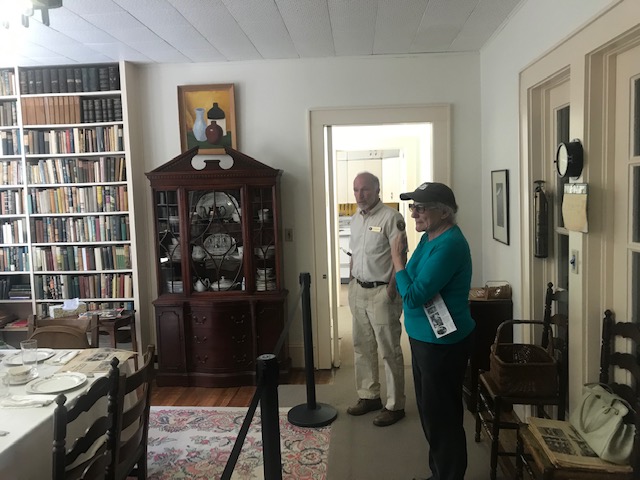 We then traveled to Flat Rock, North Carolina, and visited the home of Carl Sandburg (#36) (SSS), which is also a National Historical Site. We toured his house and learned about the record-breaking goats his wife raised there. We wound up the day by entering Great Smoky National Park and "dry camping" (no water, electricity or sewer hookups) for the first time on this trip.
The Great Smoky National Park (#37) (https://www.nps.gov/grsm) is the most visited National Park in the country, with more than 11 million visitors last year. Even though this is not peak season, we encountered plenty of traffic as we ventured westward over Newfound Gap, over 5,000 feet to the Tennessee side of the park.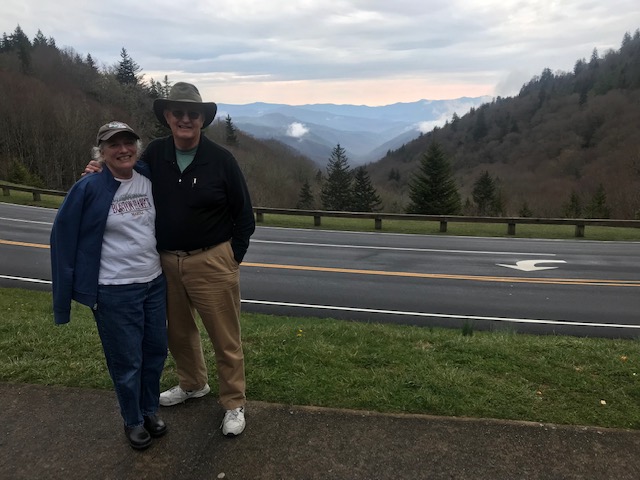 Wet Campsite at Cades Cove

Appalachian Trail at Newfound Gap
The park lived up to its name with the rains overnight causing mists to rise from the mountain tops as if they were smoking. On the west side of the park we toured the Cades Cove area that contains many historical building dating back to the early settlements from 1820. Watch a portion of this drive here: https://www.youtube.com/watch?v=ddXhGRj_CHU