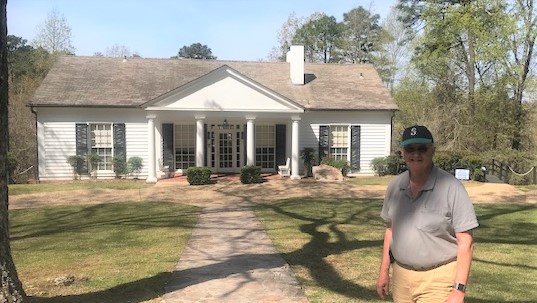 After entering Georgia, we diverted off the Interstate to Warm Springs to visit the "Little White House" (# 31) (https://gastateparks.org/LittleWhiteHouse) which Franklin D. Roosevelt used throughout his time as President to relieve his polio symptoms. Cynthia had been here before with sister Kim, so it was a bit of a memory trip for her. We enjoyed the fact that the Dogwood and other flowering shrubs were at a their peak.
Dogwood

At Warm Springs
In Atlanta, we once again took a break from the trailer and stayed at a hotel. In the evening we were able to go to dinner our "honorary nephew" Colin and his Fiance Jordan at very hip neighborhood restaurant where our favorite dish was flatbread with pepperoni butter…yumm!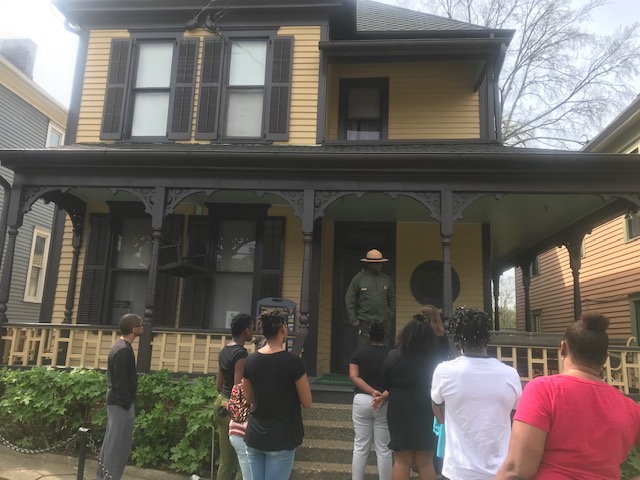 On April 4, we first went to the Martin Luther King, Jr. National Historic Site (#32) (https://www.nps.gov/malu).  As we were watching the movie in the National Park Visitor Center, we realized we were visiting on the 51st anniversary of the assassination of MLK (April 4, 1968).  As we were leaving the Ebenezer Baptist Church, we were approached by a local new reporter for our comments on this anniversary.  So we were featured on his twitter feed and part of a segment on their news program, which you can watch here:  https://www.youtube.com/watch?v=igxmDnLoJho
[NOTE: now that I have learned how to insert a video, you may wish to go to the March 27-30 post to see and hear the mocking bird that we saw there. ]
After making a brief visit at the Jimmy Carter Center (#33) (www.cartercenter.org) Cynthia did an extensive tour of the High Museum or art (#34) (https://www.high.org), where she saw lots of great southern folk, African-American and continental African art. Larry, meanwhile, went to the hotel to do laundry and take a nap.
April 5 was a short day, driving into rural northern Georgia. We stopped at Dawsonville to see a small art exhibit at the Bowen Center for the Arts (#35) (https://www.bowenarts.org) in a former schoolhouse, the "Old Rock School." We spent the night at Unicoi State Park near Helen, GA.
Bowen Center for Arts, Dawsonville

Unicoi State Park, Georgia