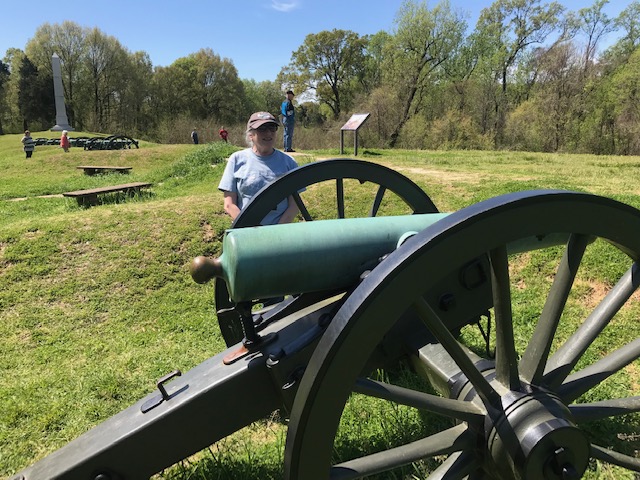 We toured Vicksburg and its National Military Park (#22) (www.nps.gov/vick) on the Mississippi River. This was the site of two-month siege by General Grant that finally succeeded on July 4, 1863, about the same time that the Union held back the Confederate Forces at Gettysburg. We have visited Gettysburg before and this scene was similar, with many monuments to the various Union and Confederate forces arrayed against each other. The countryside is extremely hilly and green, and with all the tranquility it is hard to imagine all the devastation that was underway 150 years ago.
We especially enjoyed the exhibit of the U.S.S. Cairo, one of several gunboats the Union forces used on the Mississippi River. It was sunk by running into a mine on the Yazoo River near Vicksburg. It was salvaged in the 1960s and now, with some reconstruction, is the best example of this kind of riverboat that exists.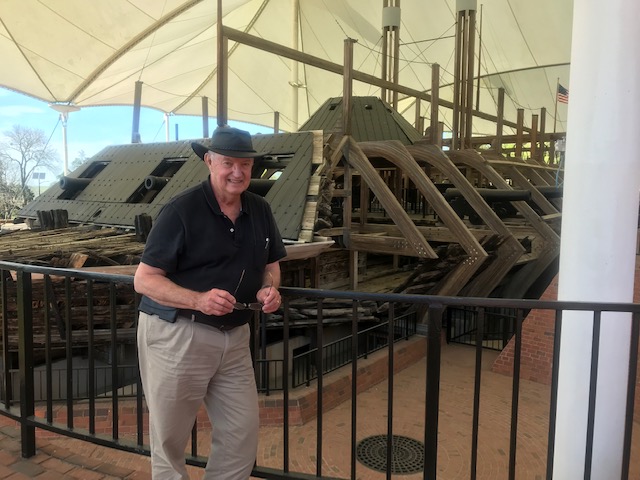 On Thursday we stayed in Louisiana and went to the Poverty Point Archaeological site (#23) (http://www.povertypoint.us/). This is a World Heritage Site, as it is one of the largest "mound-building" sites in North America. There were several thousand people here in the period 1700 BC to 700 AD. In addition to six large mounds, they built six half-circle arcs, where they lived. Archaeological exploration is ongoing at this site.
View from Largest Mound at Poverty Point
One of the things we enjoyed while staying at this campground was the incredible bird singing by the northern mockingbirds in the area.  Their ability to put forth a continuous, but highly varied birdsong was amazing. You can watch and listen to one doing his thing here: https://www.youtube.com/watch?v=IF4emwTkEFw
On Friday, March 29, we drove to Natchez, Mississippi, and enjoyed a walk along the riverfront bluffs and some of the historic buildings. We further explored southern cuisine by getting take-out barbecue pork sandwiches and eating them in the park above the river. The river is at near flood stage now and people we met who were on a river cruise said they will need to go part way by bus because the stern-wheeler cannot dock at Memphis due to high water.
Happy Couple above the Mississippi at Natchez

Melrose Estate, Natchez
We visited a couple of historic homes (#24) (www.nps.gov/natc) in Natchez, the William Johnson House, built by a "freeman of color," and the Melrose Estate, and classic antebellum mansion built by a wealthy plantation owner before the civil war. We finished with our brief exploration of Natchez at about 4:00 PM and decided to "put some miles behind us," so drove another four hours and at 8:00 PM parked our trailer in the dark at a Casino RV park in Bay St. Louis, Mississippi.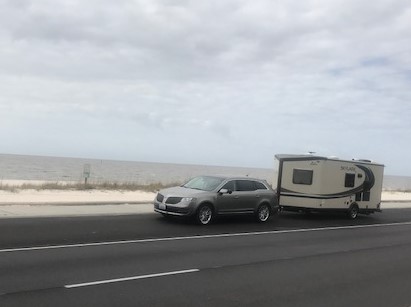 We had a much shorter day on March 30. We drove along U.S. 90, which hugs the Gulf Coast of Mississippi and Alabama. Our main stop was at the Ohr-O'Keefe Art Museum (#25) (www.georgeohr.org) in Biloxi, Mississippi. It features George Ohr "the Mad Potter of Biloxi," who produced whimsical and innovative ceramic pottery over a hundred years ago. Cynthia also enjoyed discovering a female artist, Dusti Bongé.
We also visited Beauvoir, the residence of Jefferson Davis, Confederate President, and the museum there. This whole area was badly devastated by Hurricane Katrina, and new houses are built on stilts so they can be protected from the storm surges of future hurricanes.
Jefferson Davis's Beauvoir

Biloxi House on Stilts
After only 110 miles of driving, and not readily finding available RV camping spaces on a Saturday night, we took a room in a hotel in Daphne, Alabama with a great view of the sunset of Mobile bay.
Sunset over Mobile Bay from Dafne, AL